Micro & Small Hole Drilling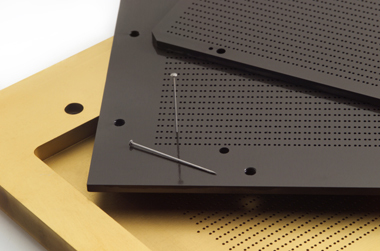 Many holes are either not cost effective or impossible to drill using conventional means. Capable of drilling difficult geometries, Electrical Discharge Machining (EDM Drilling) can drill depths up to 100X diameter and deeper. Call and ask about EDM drilling to discuss your application with one of our engineers or click Request a Quote above to send us your drawing.
Our small hole drilling capabilities include:
Hole size from .010" - .250" diameter x 12" deep
Materials: Electrical conductivity is the only requirement. See a list below.
Prototype or production quantities
Short turnaround time
Our Current 5-axis Small Hole Drilling machines can drill holes in nearly any orientation and is perfect for applications involving different diameters and angles.
Common Materials

Steel

Stainless Steel

Tool Steel

Inconel

Hastelloy

Aluminum

Carbide

Titanium

Tungsten

Tantalum

Copper

Brass

Bronze

Common Applications

Spray Nozzles
Metal Filters
Fuel Injectors
Metal filters
Dental Tools
Coolant Fed Drills
Cooling Manifolds