CNC Cylindrical Grinding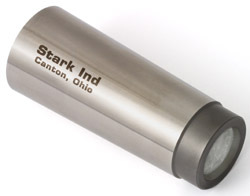 Stark Industrial uses a variety of grinding machines from well known names like Jones-Shipman and Kellenberger to exceed your tightest tolerances. Large and small quantities, simple to complex we have decades of experience and the modern equipment to handle today's grinding challenges.
We are capable of grinding:
Diameters up 14"
Lengths up to 40" between centers
Roundness to .000040"
Straightness to .000080" over 40"
We also have significant experience with cylindrical form grinding. Outside the realm of typical diameter, face, angle grinding, form grinding utilizes custom wheel geometry and interpolation to create special forms. We inspect our form grinding using our Mitutoyo Contracer and can supply computer generated inspection data upon request.